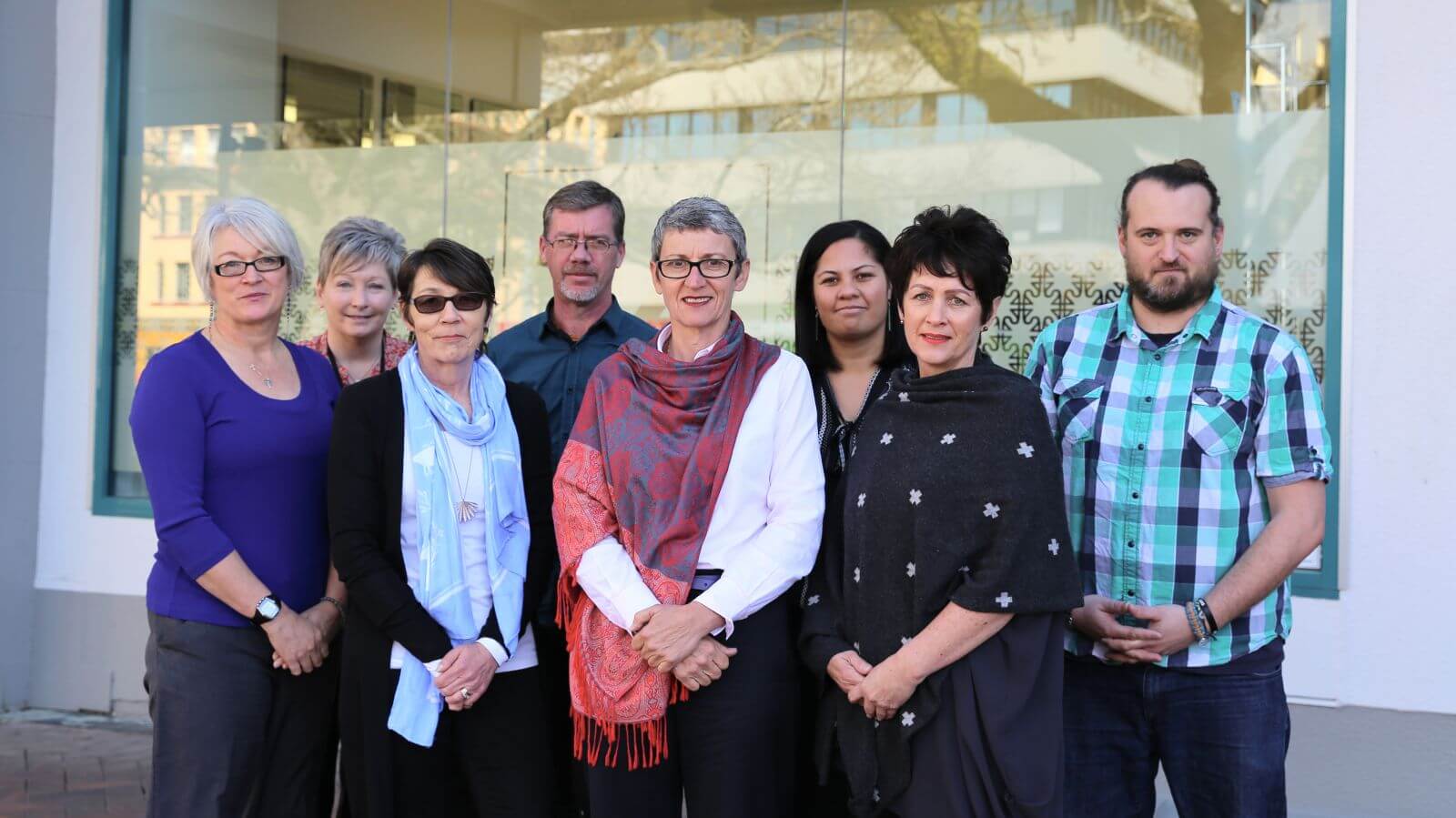 The Wise Group's subsidiary The People's Project has been selected to provide a Housing First service for rough sleepers in Tauranga.
Housing First is an internationally and nationally proven approach to ending chronic homelessness – not managing it. The People's Project, which started in Hamilton in 2014, was the first large-scale researched pilot of Housing First in New Zealand.
Wise Group joint chief executive Julie Nelson said she is absolutely delighted with the news, which was delivered by the Associate Minister of Housing and Urban Development, Hon. Jenny Salesa.
"This announcement is absolute testament to the success of our Hamilton team (pictured above), which is a small team that punches well above its weight, and their absolute sheer hard work and determination over the past three years. At the end of December, the team had supported more than 867 people, including 381 children, into 486 households in Hamilton," Julie said.
Photo caption: The People's Project Hamilton team, L-R: Lisa, Carole, Kerry, Dave, Julie, Trisha, Tristyn and Sam. Absent: Ben.
Working together for a long-term solution 
The announcement follows a year of working alongside Our Community Project (OCP) in Tauranga to design and develop a solution for the city. OCP Tauranga is a multi-agency group representing key organisations dedicated to finding sustainable solutions for ending homelessness in Tauranga.
"No single organisation working alone can end homelessness, and over the past year we have been building relationships with key agencies in Tauranga, including the council, iwi representatives and social service and housing providers, who favoured having an experienced Housing First service set up in the city," Julie said.
OCP chair Steph O'Sullivan said the increase in rough sleepers in Tauranga city had deeply concerned the community.
"We've acted as a community, taken a partnership approach and through sheer determination supported and championed the need for a long-term solution to rough sleeping in Tauranga. We recognise all members of OCP and The Wise Group for their expertise and experience and look forward to continuing this journey, working together on this very complex issue," Ms O'Sullivan said.
Proven record of success
Tauranga City Council Councillor Leanne Brown said the announcement is welcome news for all the city's residents, but most importantly for the people experiencing the most chronic homelessness.
"We've been working on finding a sustainable solution to end homelessness in Tauranga for some time. We're looking forward to The People's Project being established in Tauranga to deliver a Housing First service which has a proven track record of success," Cr Brown said.
Julie Nelson said there were many similarities between Tauranga and Hamilton, in that the Hamilton team also started with a very specific group of people who were known to council staff and police around the city for sleeping rough. A recent by-name count by Tauranga City Council found 70 – 80 people sleeping rough in the city.
The People's Project will be funded by the Ministry of Social Development to work with 100 people over the next two years.
"When we first launched The People's Project in Hamilton in 2014 we did so with no Government funding – and for the first two years it was solely funded by the Wise Group. Our Hamilton team has proven that Housing First works in New Zealand, which is why we are now funded in Hamilton, and why Housing First is being funded to expand into Tauranga, among other regions," Julie said.
"Ultimately the real winners from this announcement are those folk in Tauranga who have been homeless and living rough for quite some time, who will now have a dedicated service to work alongside them, to give them support to move from the street into safe, secure homes they can call their own."
A Group-wide approach to ending homelessness
The Wise Group is committed to ending homelessness so that it is rare, brief and non-recurring. Julie said the Group was earning a reputation for delivering a range of Housing First interventions for people with differing housing and support needs – from prevention through to chronic homelessness.
In addition to The People's Project in Hamilton and Tauranga, the Group's community housing provider LinkPeople is a member of the Housing First Auckland Collective, working with chronically homeless people in South Auckland. It also provided rapid permanent housing and sustaining tenancy services in Hamilton and Rotorua.
Wise Management Services also provided backbone business support and project management to the Housing First Auckland Collective.
Published on: 7 February 2018