Just a Thought clinical lead Anna Elders has been awarded the 2022 eMental Health Innovation Leadership Award for New Zealand.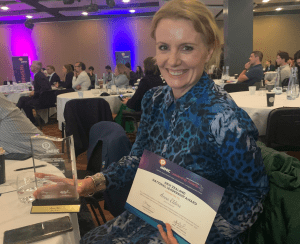 This prestigious annual award recognises one person or organisation for their outstanding contribution, commitment and leadership in the sustainable implementation of eMental Health solutions at scale.
Through her role as clinical lead for online eCBT tool, Just a Thought, Anna has worked tirelessly behind the scenes to ensure the uptake of this free service in both primary and secondary care. With 3,000 prescribing clinicians and nearly 50,000 course sign-ups in its first three years of operation, Just a Thought is now considered
one of New Zealand's leading eMental Health tools.
Anna received the award on Thursday, 10 November 2022 at the eMental Health International Congress 2022 in Auckland, where she also presented on collaboration (whakawhenaungatanga) for success – specifically how Just a Thought networks and collaborates to extend ours and others' capabilities.
Read more about Anna's work and the e Mental Health Innovation Leadership Award on the Just a Thought website.
Published on: 14 November 2022