Te Pou o te Whakaaro Nui paeārahi leader Keri Opai has won a TheMHS Award in the 2018 Mental Health Service Awards of Australia and New Zealand.
Keri received a special award in recognition of his contribution to excellence, innovation and best practice in mental health services, for the creation of Te Reo Hāpai – The Language of Enrichment. This resource is a new Māori glossary that provides translations for existing words and created many new words in te reo Māori for use in the mental health, addiction and disability sectors.
The Award was announced this week at the Annual TheMHS Conference held this year in Adelaide, South Australia. It was presented by former Australian Prime Minister the Hon Julia Gillard AC, who is this year's Mental Health Service Award Ambassador.
The Mental Health Service Awards of Australia and New Zealand are presented every year by TheMHS Learning Network to recognise and encourage best practice, excellence and innovation in mental health service delivery. The Awards have been made annually since 1992.
TheMHS Conference is the largest mental health and addiction services conference in Australia, New Zealand and the Pacific. TheMHS aims to promote positive attitudes about mental health and mental illness and to stimulate debate that challenges the boundaries of knowledge and ideas about mental health care.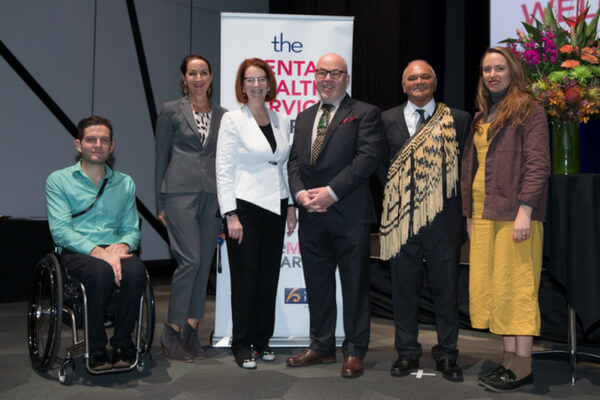 New Zealand winners: Daniel Buckingham from Attitude, Te Pou chief executive Robyn Shearer, Mental Health Service Award ambassador Julia Gillard, Rob Warriner from Walsh Trust, Keri Opai from Te Pou and Ursula Williams from Vice. 
Published on: 6 September 2018