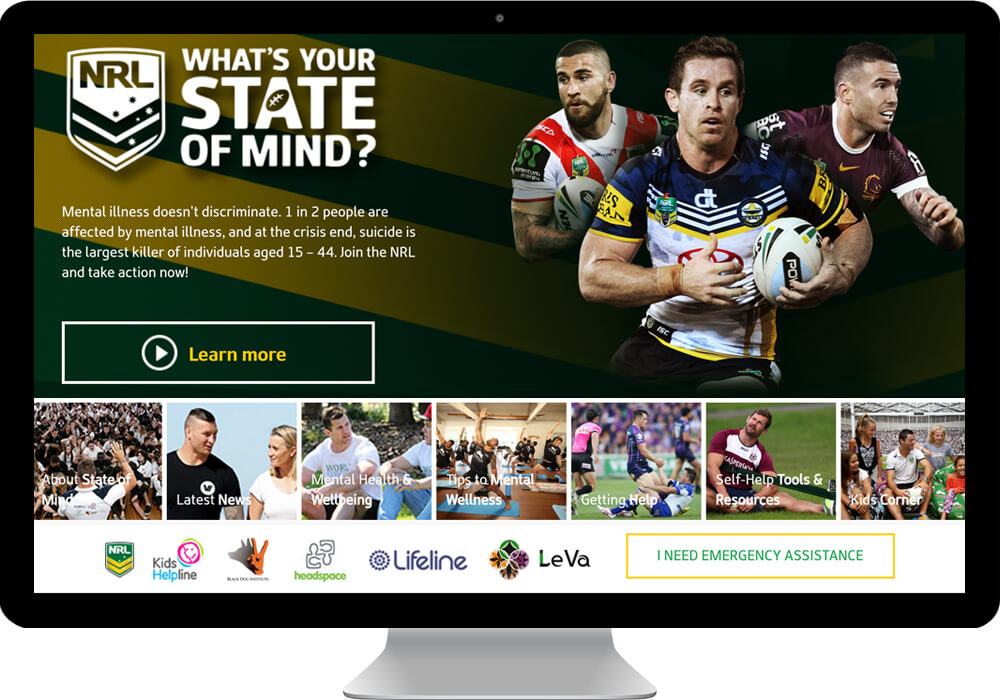 Le Va has officially joined the NRL's State of Mind programme to provide expert advice on mental health to support the wellbeing of Pasifika rugby league communities in New Zealand, the Pacific and Australia.
Now in its fourth year, the NRL State of Mind campaign has reached more than 10 million people across Australia and New Zealand, with the aim of reducing stigma around mental illness, stimulating help-seeking behaviours and increasing mental health literacy among communities.
Acknowledging New Zealand's influence 
Since 2007, Le Va has worked with Pasifika people in mental health and addictions, suicide prevention, workforce development, public health, disability support, education and sport.
Chief executive Dr Monique Faleafa is a clinical psychologist who has been a mental health advisor and Pacific Advisory Group member to the NRL's Player Education and Welfare Programme since 2013, and has served on the NZRL Medical Council for New Zealand Rugby League.
She said Le Va is the first New Zealand organisation to formally join the NRL's State of Mind programme, which she believes acknowledges New Zealand as a large supplier of playing talent for the NRL, and their relationship with the Vodafone Warriors.
"At a club and school level, around 40,000 people play rugby league in New Zealand, many from Pasifika and Maori communities, and more than 42 per cent of NRL players are of Pasifika descent. When you consider the family and fans of these players, this partnership perfectly aligns with Le Va's national work supporting the wellbeing of Pasifika communities," Dr Faleafa said.
Promoting help-seeking behaviour
Le Va's work includes leading New Zealand's first national suicide prevention programme for Pasifika communities called FLO: Pasifika for life.  Dr Faleafa said one in six New Zealanders will experience serious depression at some time in their lives, and suicide is the leading cause of death for young people aged 15-24 years.
"The NRL is our leading sports code in the area of wellbeing and they have stepped up to use their voice to reach out to those who are vulnerable and at risk throughout our communities. We have been honoured to support a strong relationship with their Education
and Welfare Programme for the past three years and they have put mental health front and centre, using evidence-based approaches."
Along with the State of Mind programme, the NRL's Education and Welfare programme is delivered in every club, supporting young players to grow and develop their potential in every aspect of their lives.
"The value of this work should not be under-estimated. Thanks to the leadership of people like Nigel Vagana and Paul Heptonstall we have also seen the importance of cultural identity in wellbeing come to the fore.  Le Va has had the opportunity to provide input in to Pasifika leadership development and enhance the relocation process for players in terms of wellbeing too," Dr Faleafa said.
Promoting mental wellbeing on and off the field 
The NRL's New Zealand-based player wellbeing manager Joe Harawira has been working with Le Va to deliver State of Mind sessions to New Zealand's junior athletes and parents for the past three years.
He believes the programme offers immense value in terms of preparing young athletes for the NRL pathway.
"Mental health and wellbeing is probably the single most important area for young athletes to understand and develop. This new partnership between Le Va, the NRL and the NZRL signals a clear intent to build the resilience of young athletes in order for them to flourish both on and, more importantly, off the field," Mr Harawira said.
The NRL State of Mind programme is also supported by Australian mental health partners including Lifeline, The Black Dog Institute, Headspace and Kids Helpline who all provide expert advice and guidance for the programme.
For more information go to www.nrl.com/stateofmind.
Published on: 13 June 2016