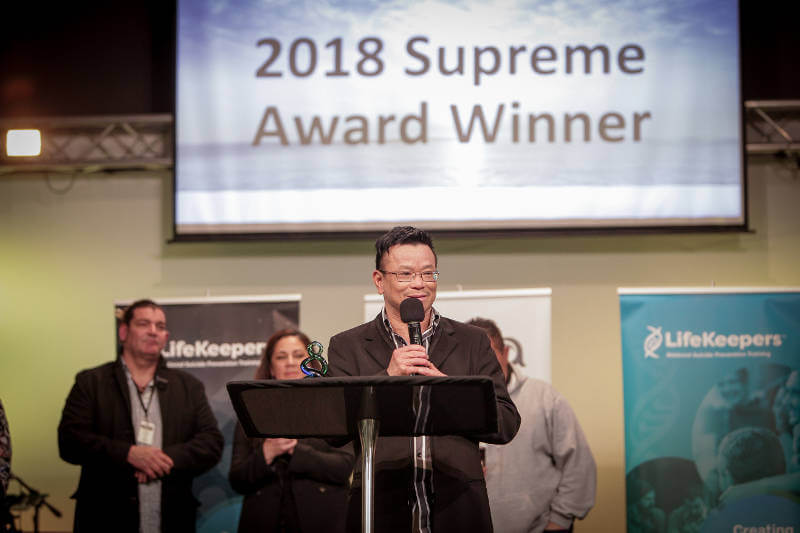 Ordinary people doing extraordinary things to save lives and prevent suicides in their communities were recognised today at the national LifeKeepers Awards, in Christchurch.
This year, 12 people from around New Zealand have been nominated for their outstanding contribution to preventing suicide in their community. Read more about the award recipients.
LifeKeepers is a free national suicide prevention training programme for those in the community wanting to create positive communities of care and prevent suicide. The programme is delivered by Le Va, an organisation that specialises in Pasifika mental health and wellbeing.
Le Va chief executive Dr Monique Faleafa says all the LifeKeepers award nominees have played an active role in preventing suicide in their community.
"The LifeKeepers awards help change the conversation about suicide, from a reactive, negative narrative, to an empowered narrative focused on hope – we're doing this by acknowledging and learning from the amazing work led by people from within their own communities who are preventing suicide every day," says Dr Faleafa.
Brian Lowe of Youthline Otago was awarded the overall LifeKeepers award supreme winner.
Brian is the manager of Youthline Otago and started working in suicide prevention as a volunteer, over 10 years, he has supported individuals and communities, trained volunteers and led the development of new policies designed to improve Youthline's capacity and response to people at risk of suicide.
The goal of LifeKeepers training is to equip people in communities to recognise and support people at risk of suicide to get the help they need.
LifeKeepers has been primarily designed for people who are likely to interact with people at risk of suicide. This includes people working in community or frontline roles such as support workers, sports coaches, emergency service personnel, church leaders, school counsellors, youth workers, Māori wardens, caregivers, Kaumatua and community leaders.
Delivered through face-to-face workshops and available through online learning, LifeKeepers also meets the needs of Māori communities through Mana Akiaki, a tailored version of the programme designed to enhance the learning through a te ao Māori lens.
Since the launch of LifeKeepers almost a year ago, over 700 people have completed the training and 27 workshops have been facilitated across the country.
The annual LifeKeepers awards are sponsored by Le Va and the Clinical Advisory Services Aotearoa.
Pictured: Brian Lowe, LifeKeepers 2018 supreme award winner. 
Published on: 24 August 2018