The Royal Australian and New Zealand College of Psychiatrists (the College) has awarded Te Pou o te Whakaaro Nui principal advisor mental health and service user lead Caro Swanson an Honorary Fellowship for her influential work in mental health systems and services.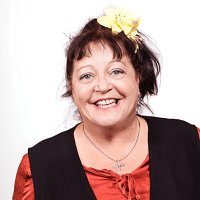 Honorary Fellowship of the College recognises exceptional and prominent contributions to psychiatry and mental health by a person who does not otherwise qualify for Fellowship. Honorary Fellows are recognised as members of the College.
Caro has worked for more than 20 years in mental health consumer and peer roles, including consumer advisory, auditing, governance, peer support, project management, training, facilitation, consultancy, evaluation, resource development, advocacy, writing, supervision and mentoring, and quality improvement.
Re-framing our thinking inclusively and collegially
Caro's nomination was put forward by psychiatrists and College Fellows Dr Susanna Every-Palmer and Dr John Crawshaw, who said Caro's work has and continues to focus on challenging and changing attitudes, beliefs, behaviours and practices.
Dr Every-Palmer said over the years Caro has been very effective at engaging clinicians in understanding the experiences of people accessing services and what clinicians can do to enhance this experience.
"Caro is driven by the passionate belief that our responses to people must include compassion and more holistic, joined-up options. She is brave in facing people who have differing opinions, frequently revisiting some of her darkest days, and sharing them with strangers, in the hope that it will change people for the better."
"I am delighted that our College has honoured Caro – and indirectly Te Pou – through this prestigious award. It is people like her who make the world a better place, one day at a time."
To read full article click here
Published on: 3 February 2020